Fall Black Bear Hunts Over Bait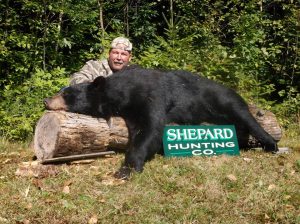 The state of Maine has the highest population of black bears in the East. Maine is also the most heavily forested state in the lower 48. This combination, along with an experienced outfitter, will provide you with hunting memories to last a lifetime.
We offer all-inclusive bear over bait hunting packages in the vast wilds of Northern Penobscot and Southern Aroostook counties. Our hunting areas are comprised mostly of privately owned working forest, where harvesting practices promote young growth forest and provide accessibility to outstanding black bear habitat.
The bear over bait season begins on the last Monday in August and runs for the following four weeks. Our fully guided hunts consist of six days of hunting and seven days of lodging, with three home cooked family style meals per day. The hunts are conducted primarily in the afternoon and evening hours, with the largest percentage of our bears harvested in the last couple hours of daylight. Each hunter is guaranteed at least one highly active, unhunted bait site, regardless of the week they choose, with many others available should the need to move throughout the week arise. We use both ground blinds and tree stands, and shot ranges vary from 15-40 yards. Baiting operations for all sites begin approximately one month prior to the stands being hunted. Time tested and proven baiting methods combined with proper stand placement and site location will maximize your opportunity to harvest a bear.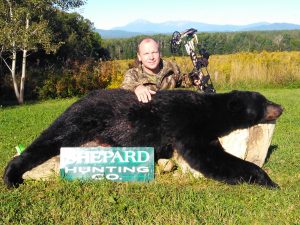 In order to maintain a high quality, personal hunting experience, we limit each week to 12 hunters. Our guide to client ratio is never to exceed one guide per four hunters. This enables us to take each hunter directly to the stand location and bait while the hunter gets situated. All hunters are given a two way radio to provide communication with the guide when they shoot at a bear. The guide will arrive as soon as possible to the site, and recovery of your bear will begin, whether tracking a wounded bear, or extracting one that dropped directly at the bait site. We would like for all hunters to be as involved in this process as they choose, and every effort is made to recover all animals the evening of the hunt, even if a lengthy tracking job is required. At the end of legal hunting hours, the guide will return to each stand site and assist the hunters back to the vehicle, returning everyone back to the lodge as quickly as possible. All bears harvested are field dressed and hung upon our return to the lodge, awaiting registration the following morning.
The average live weight of a Maine black bear is 150-200 lbs. Every season we shoot several in the 200-300 lb. class, and most seasons kill a bear or two in the 350- 400 lb. class. The largest bear we have harvested over our bait sites to date was a 426 lb. bruin. We believe one of the most important things we can do as guides is to educate our hunters on how to properly field judge bears prior to shooting one. A trophy is measured through the eyes of each individual hunter, and our goal is for all hunters to be well pleased with the bear they chose to harvest. Success rates will vary from year to year – factors such as available natural feed, hunter experience, and weather are all uncontrollable aspects. Our average over past seasons is 70% on fall bear over bait hunts.
Our hunts are custom tailored to the specific requirements of every person. Your choice of weaponry, along with physical capabilities, will be the biggest factors in determining your stand set up. We will cater to rifle, shotgun, handgun,muzzle loader, bow, and crossbow hunters. We also can accommodate handicapped and special needs hunters.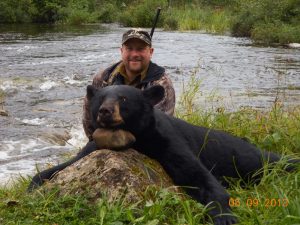 Hunting black bears over bait in the wilderness of Northern Maine is an exciting and rewarding adventure. Because we are pursuing truly wild animals in their home environment, it is impossible to guarantee the outcome of a hunt. It is possible to guarantee that at Shepard Hunting Company, we will deliver a world class hunting opportunity, conducted by a professional outfitter and highly experienced guides, with all the accommodations as promised. If you are interested in hunting with us, or have questions, please call us at 207-615-7402.