Fall Black Bear Hunts With Hounds
One of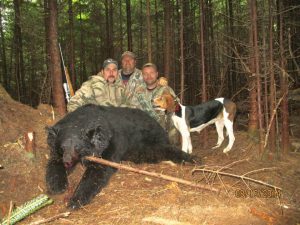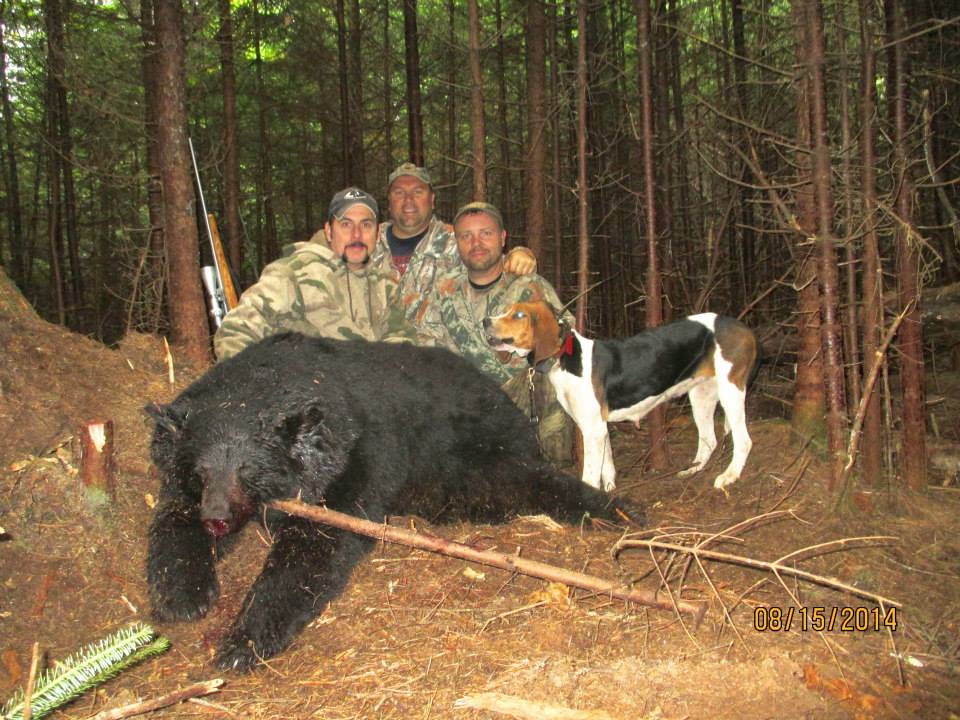 the most successful ways to hunt for trophy bears is to pursue them with hounds. Maine's vast wilderness and diversified terrain, along with its endless system of logging roads offers a truly remarkable opportunity to enjoy this exciting style of hunting.
Every season, after several weeks of intense hunting over bait, we switch gears and start hunting bear with hounds. This is a very fast paced, action packed method of harvesting a bear. Over time, many bears become wise to bait hunting scenarios, and begin hitting the sites after dark and early in the pre dawn hours. These bears are prime candidates for hound hunting. Bait sites are carefully monitored prior to the hound season in an effort to establish the feeding schedule of nocturnal bears, and baiting methods are altered to maximize late night and early morning hits.
Our hound hunting packages are fully guided, one on one, six day hunts. Your week long hunt will include three home cooked meals per day, seven days/nights lodging, guiding, transportation, and field care of your bear. Each hunter will have his own guide and pack of hounds for the full week, and are encouraged to be selective with the bear they harvest, knowing that several opportunies should arise. Our success rate on bear hunting with hounds averages around 90 percent, with the largest bear taken to date being a 560 lb. bruin.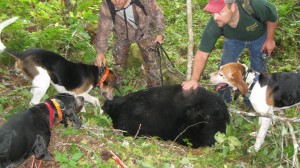 We begin each hound hunt long before dawn with a hearty breakfast and packed lunches for the day. After loading the hounds into the dog boxes, the guide, houndsman and hunter drive to the predetermined area an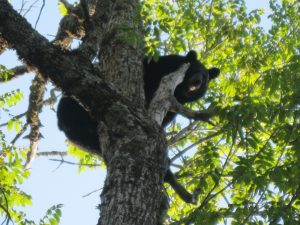 d begin checking the bait sites and viewing trail camera photos to determine which site to loosen the hounds at. Once the dogs are on the ground and a strike is made, the chase is on! We stay as close to the race as possible with the use of state of the art radio and GPS telemetry, combined with our knowledge of the terrain and surrounding road systems. Some chases are very lengthy, with others being very short lived. Once a bear is treed or bayed up on the ground the hunting party will make its way in as quickly as possible, to either harvest the bear or grab the hounds and ready for another day should the hunter choose not to take that particular bear. Once all hounds and party members are accounted for, its back to the lodge for a great meal and well deserved rest for all involved, while eagerly anticipating the next days hunt. If listening to the bawl of hounds echoing across the valleys and mountains, and seeing these finely tuned animals perform sounds like your type of adventure, let Shepard Hunting Company lead the way. For more info or to book your hunt please call 207-615-7402